Global Rice Marketing and Research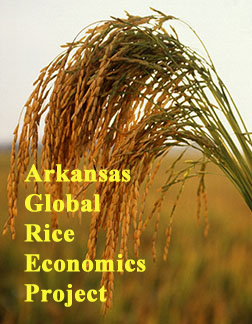 The purpose of the Global Rice Marketing and Policy Research Program is to provide information and analysis to support public and private decision making related to rice marketing and trade. This research program was established in 1991 by a grant from the U.S. Congress. Baseline projections are the primary focus of the program using the Arkansas Global Rice Model, a framework that provides short- and long-run projections of the international rice economy and analysis of market and trade polices.
Additional research areas include:
the economics of rice drying, storage, and milling
the performance of the rice futures market
analysis of resource issues confronting the rice industry
This research program is part of a special research consortium of universities including the Food and Agricultural Policy Research Institute, FAPRI/CNFAP at the University of Missouri-Columbia and FAPRI/CARD at Iowa State University-Ames.