Archived News
2015 Agricultural Business Club Awards Banquet
2015 Bumpers College Honors Students
Distinguished Alumni of 2014
A ceremony was held October 24 by the agricultural economics and agribusiness department to celebrate the accomplishments of two distinguished alumni, Mark Waldrip and Allison Thomas.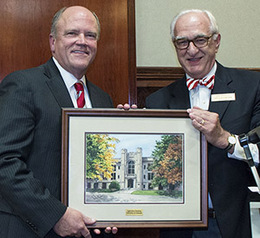 Mr. Waldrip of Moro, B.S.A. 1977, was honored as the 2014 Distinguished Alumnus. He is owner of East Arkansas Seeds, Inc., and Armor Seed, LLC, companies that develop and market soybeans, wheat, rice and corn to a dealer network within 12 southern states. He also owns and manages Waldrip Lands, LLC, a diversified agricultural real estate company. Currently he serves on the University of Arkansas Board of Trustees as Chairman of the Audit Committee and Chairman of the Athletic Committee. He credits the U of A for a large measure of his success, saying "the personal associations that I made in Fayetteville have been invaluable to me in my professional pursuits." In addition to his business success, he has consistently demonstrated a willingness to serve and provide vital leadership to numerous community and civic organizations. His distinguished leadership includes service on the board of directors of Farm Credit Mid-South, Agriculture Development Council, Arkansas Agriculture Board, Arkansas State Plant Board and the Lee County Airport Commission.
Ms. Thomas of Washington, D.C., a 1999 M.S. graduate, was honored as the Young Alumnus of 2014. She is Chief of Staff of USDA's Foreign Agricultural Service. In this capacity, she focuses on strategic policy and coordination between Senior USDA management, FAS and USDA employees, external government agencies and U.S. agriculture stakeholders. In addition, she ensures that day-to-day management and operations of the agency flow well. During her career, she worked overseas in the U.S. embassies in Kenya and Afghanistan. She began her career with FAS as a summer intern while completing graduate school at the U of A. According to Thomas, "the study abroad program experience through the University of Arkansas broadened my perspective on international and global issues and created a pathway for my career."
---
Mike Norton Named Marshall Scholar for 2014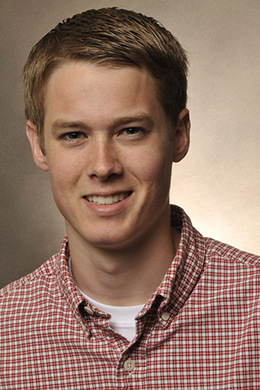 Mike Norton, a 2013 honors graduate from the University of Arkansas, has been named one of 34 Marshall Scholars for 2014 by the Marshall Aid Commemoration Commission. Norton, from Lincoln, Ark., majored in both poultry science and agricultural business in the Dale Bumpers College of Agricultural, Food and Life Sciences, and was a member of the Honors College. He will pursue a master's degree in politics at Oxford University.
"The Marshall Scholarship is one of the most prestigious in the country," said Chancellor G. David Gearhart. "It is on par with the Rhodes and the Gates Cambridge Scholarships. In order to receive a Marshall, a student must be outstanding academically and must have a demonstrated ability to enact positive change. Mike Norton is a perfect choice for this recognition and for this life-changing opportunity. With the support of dedicated faculty, Mike made a significant difference on our campus, and he is currently working in Washington, D.C., making an important contribution there as well. I look forward to his return to Arkansas after his studies in Oxford and to following what promises to be a very distinguished political career."
"I am extremely excited and humbled to receive the Marshall Scholarship," said Norton. "I look forward to starting graduate studies at the University of Oxford. The political science program is one of the best in the world and will provide an excellent foundation for a career in public service. I am really grateful to the University of Arkansas and to terrific faculty like my research mentor, professor Lanier Nalley, for providing graduates with the tools they need to succeed. I believe this prestigious award is a reflection of the achievement of both my alma mater and the state it serves."
---